Hiring a virtual assistant is something that changes you from a solopreneur to a business owner. Business owners don't do everything on their own and instead, they hire people to work for them. Not having people to do things for you means you are wasting a lot of your precious time on things that you can outsource to someone for better results and lower cost. Let' s see how investing in virtual assistant services is a smart decision for entrepreneurs.
Why Hire Virtual Assistants
No Need for Physical Office
When hiring a virtual assistant for your jobs, you don't need to acquire office space and can deal with the assistant from the place you love to work.
A virtual assistant costs much lower than hiring somebody as an in-house employee. Here, you pay only for the hours they spend working on your tasks.
You can choose people to work for you from any location. You don't need to limit your search to just local areas and can get your work done from any geographic location.
Saves You from Burning Out
Many entrepreneurs choose to do everything themselves but later encounter lack of concentration, delay in the accomplishment of tasks, and no time for personal life. In such a situation, virtual assistance comes as a big relief.
Availability of More Time for Core Business Operations
With the time you save by outsourcing jobs, you can put more focus on the areas of strengths and tasks that require higher attention.

Tasks That You can Outsource to Virtual Assistants
2. E-mail & Live Chat Management
3. Administration
4. Bookkeeping
5. Personal Assistance
6. Social Media Management & Marketing
7. Web Design & Development
8. SEO & Digital Marketing
The above-mentioned jobs are the ones that are generally outsourced for virtual assistance. However, it's not restricted to them only, there are many other tasks that can be delegated to virtual assistants.
The Process of Hiring Virtual Assistants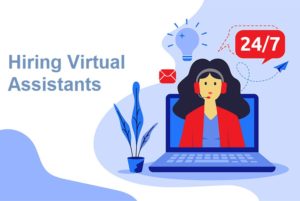 Here are the steps involved in an ideal procedure of hiring a person for virtual assistance.
First of all, make a list of all the tasks you want to hire an assistant for. It should include the tasks that you can't do, you don't want to do, or you shouldn't do even if you enjoy doing them.
2. Write a Job Description
A good job description includes the following pieces of information-
I.) A detailed description of your business
II.) Qualification, skills, and experience required
III.) Duties and responsibilities to be carried out
IV.) Applications, tools, etc. to be used
V.) Estimated work hours per week
3. Publish Job Description
Post your job description to online platforms and begin receiving job applications. You can find many such platforms by researching online.
Go through the applications you receive and pick the top 5-8 applicants for interview. Having an interview in person is the best thing but in case that's not possible, you can arrange a video interview via video call or Skype.
5. Hire the Best Candidate on Trial Basis
Sometimes people who do good at interviews are not so good at working practically. Hence, at first, the job engagement should be on a trial basis. If you find them perfect for the job, you can continue with them.
---
TAGS